CONVERGING is aimed at developing 4 industrial Pilots i.e. full-scale pilots running in actual production environments of each of the following sectors:
Automotive
Tool and Die inspection are currently performed manually by human operators. These tasks are a big challenge due to three main limitations: a) The operators need high level of expertise; b) Subjectivity, as it depends on the human operator's perception; c) Repeatability.
Automation of the entire process of mold inspection and polishing process with the use of a smart mobile manipulator. The manipulator can navigate autonomously, be taught by an operator how to handle different elements, perform visual inspections with a laser profilometer, identify regions where polishing is required, polish affected regions, and return to its position. The smart mobile manipulator is able to navigate safely through the developed AI reasoning systems.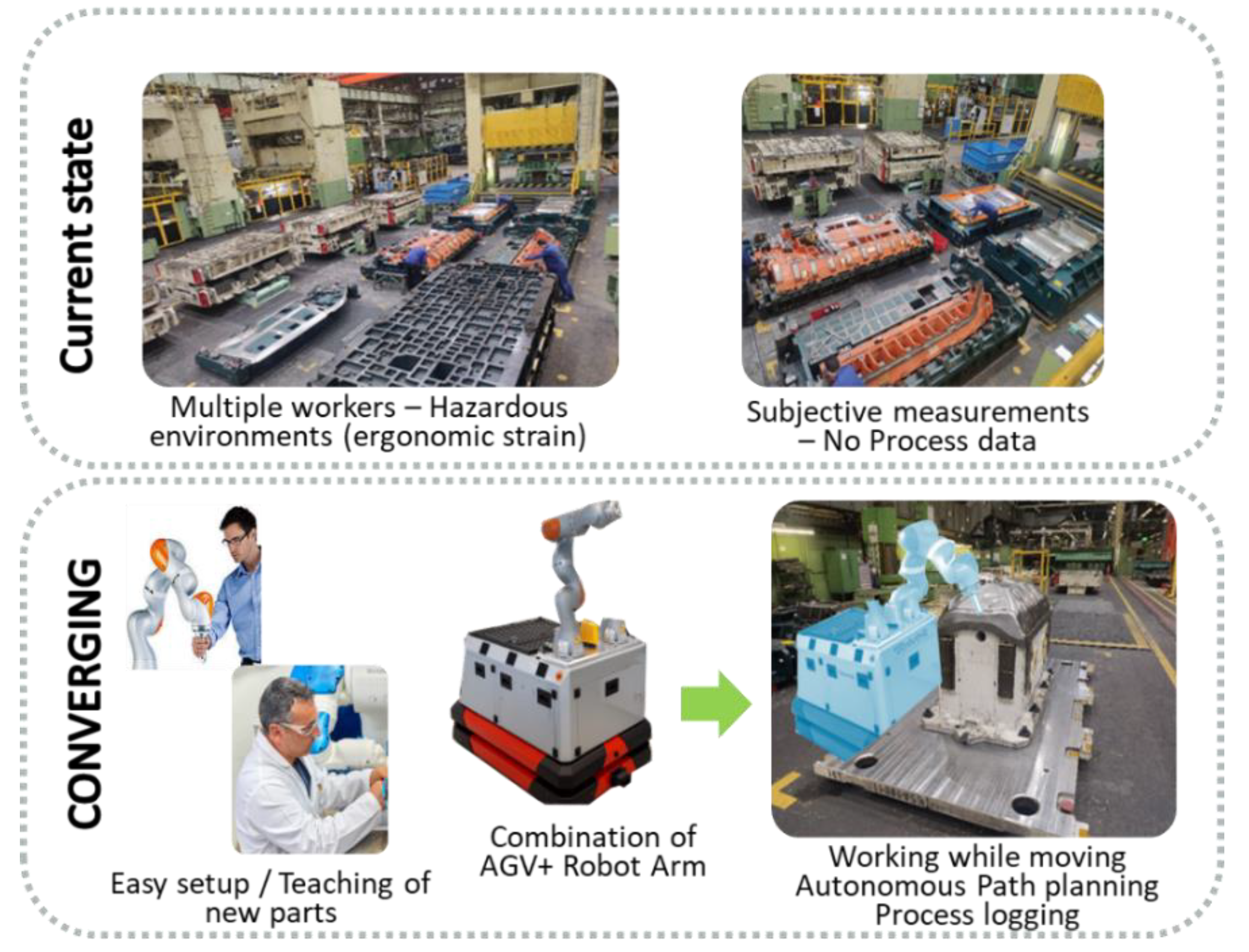 White Goods Industry
One or more operators are following a repetitive process of assembling fully manually the induction coils in the electric hobs' enclosure. This critical procedure can compromise the overall quality of the process, as the cables and connectors will handle high power during the lifetime of the product.
CONVERGING introduces a human-robot collaborative approach in which human operators will load the coils into a feeding system and robot by using AI methods for classification and anomaly detection will confirm that the coil and connectors are correctly loaded. Then it will proceed with the assembly sequence, ensuring highly reliable connection process. Human and robot will coordinate their actions through an AI station controller, and the system will improve the repeatability of cable routing, reduce ergonomic risk factors, and deal with variability in coil supply.

Aeronautics
An inspection process is performed during the conversion of a B767 from passenger to freighter as well as during C checks, it is necessary to open the fuel tanks for work and inspection. The typical visual inspection is performed by a technician, a hazardous procedure by getting into the tank using a flashlight and mirror to detect any discrepancies. There are followed safety precautions that need to be taken before a technician can enter a fuel tank leading to a loss of time.
The CONVERGING project aims to improve the efficiency and safety of inspecting and repairing fuel tanks through the use of robotic technology, AI-based systems, and augmented reality tools by reducing the necessary precautions and complete the work more efficiently. Human-robot collaboration will be facilitated by augmented reality tools, and offline training in virtual reality environments will ensure safe and efficient interactions with the actual robots. The project is expected to increase productivity, reduce cycle time, and prevent workers from being exposed to hazardous areas and chemicals.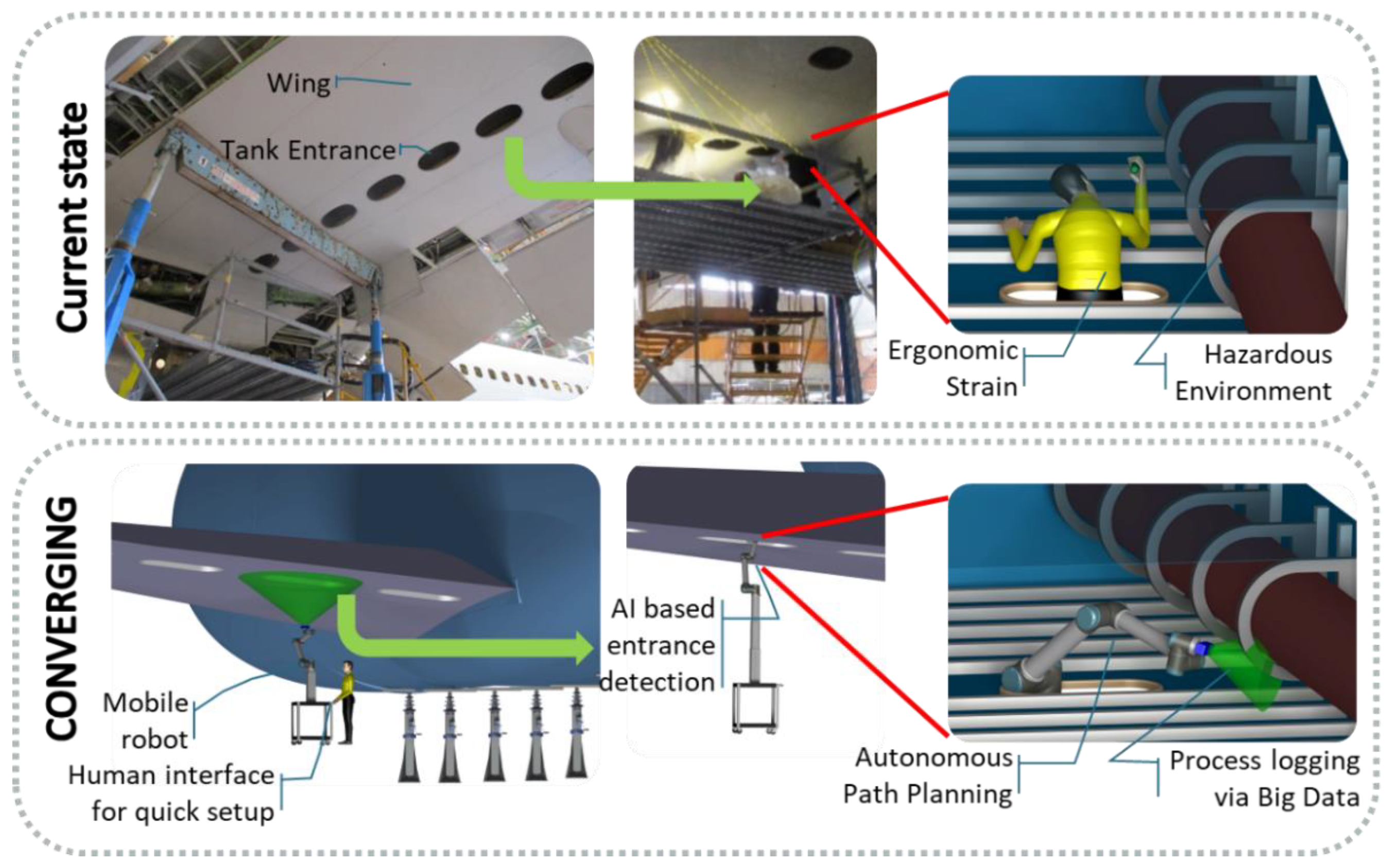 Additive Manufacturing Sector
In Additive manufacturing (AM) the challenges associated with post-processing steps, particularly the removal of supports that enable the creation of complex geometries can be a difficult process as the operator can damage the part near the support, compromising its functionalities. The production of parts in AM is not performed at a standard rate, which can induce issues with work balancing.
The CONVERGING project will implement robots to perform support removal and surface finishing operations in collaboration with humans to maximize efficiency. The use of AGVs will shift time-dependent handling into data-driven handling and AI planning will ensure the distribution of effort based on the current load of the Additive Manufacturing station. AI will enable the robot to simulate the human arm, reach difficult points and speed up operations.

CONVERGING Pilots will be geared towards creating new robotics systems applications and adding new (safety/ collaboration) functionalities to existing ones through the integration of:
Smart Mechatronic systems such as distributed sensors and wearable devices
A communication infrastructure for collecting and processing big data sensor
The Digital Pipeline incorporating virtual representation, simulation, knowledge modelling, and digital twins for decision-making.